Study in Australia for international students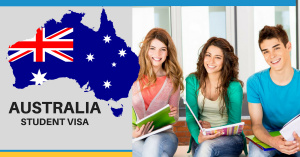 Here's 4 Reasons why you should study in Australia.
Student who apply in Australia for further studies, don't just come to Australia for the amazing scenery, vibrant cities, unique wildlife or even more unique jargon. The world is increasingly turning to Australia for a first-class education.
While, if you have decided to study in Australia on student visa Australia, then, this guide is specially for you. As we will be highlighting the important reasons why you should study in Australia and you must consider hiring our best knowledgeable DMI consultants  in Lahore Pakistan for all your visa and concern issues.  
Here are few great reasons why you should make Australia your first choice when choosing a destination for international studies.
Australia is ranked 5th in world's best cities for international students
Australia is one of the world's leading destinations for international students. In fact, last year
Melbourne ranked number 5th in the world amongst the best cities for QS students. With six other major Australian cities ranked in the top 50, it is clear that Australia remains the best option for international students. In addition, Australia prides itself on being very multicultural.
You will probably find communities, and food, that will remind you of your home, as well as many opportunities to explore something new. Learning together with student who study in Australia and are from varied backgrounds means that you will enjoy a richer university experience. You will make friends from all over the world and hear unique perspectives that you may not find at home.
Australian nation warmly welcome international students
There are many people who participate in making sure that every new international student who arrives on student visa in Australia feels welcome. If you arrive at Down Under at the main airports in Melbourne or Sydney, you will probably find a welcome desk for international students. They will answer any questions you may have and provide useful information to facilitate your arrival. In addition, many universities now offer airport pick-up services, which saves you the trouble of getting oriented in a new city. These are few reasons which makes Australia student visa more popular among international students and more Pakistani student apply for student visa Australia.
After you get settle, you will see that Australians are calm and friendly people. The culture is wide-ranging and emphasizes personal freedom, a "fair go" and opportunities for all. Australia is also a very safe place to live and study, with a low crime rate and reliable emergency services.
Furthermore, Australia has some of the best top ranked universities in Australia. Australia's education system has a remarkable international status, so graduates of Australian universities are highly sought after by employers around the world. With more than 40 universities to choose from across the country, the options offer quality and quantity. The Australian university system is carefully regulated by the Australian government to maintain high standards.
The Australian method to education highlights practical and sovereign learning, and the result is former students with job skills, not just knowledge of books. Independent thinking, debate and problem solving in the university environment are encouraged, so you can really put your mind to the test. In addition, universities foster a safe and respectful space, so you can feel comfortable contributing to class discussions and asking questions.
You will get a countless opportunity step-up in your career
The importance on real-world knowledge and everyday learning in Australian universities is not only good on paper, but also helps students build a solid foundation for their future careers. Many degrees include internships and internships as part of the course structure, an excellent way to gain industry experience and skills in the workplace.
While, good part is that the Australia also allows international students who want study in Australia are allowed to work up to 20 hours per week on their student visa. This can help you with your living costs and at the same time offers you the opportunity to work in your field of interest while studying. This gives Australia brownie points. You can easily apply for student visa Australia, after selecting the university and getting the approval letter. You can also hire DMI consultants for study in Australia, to make visa process easy for you.
Fascinating Facts while studying in Australia
As we all know that Australia is a huge country, so most people who visit just scratch the surface of the places to go. Wherever you choose to study in Australia, you will have a lot to explore, and you will be here long enough to make the most of your time.
Most international students attend college in Melbourne or Sydney. In addition to some famous places, you will love the culture of these cities. Melbourne, for example, has a thriving scene of restaurants and cafes, as well as delightful museums, art galleries, festivals, live music and sporting events.
Outside the city, you will also be enchanted by the stunning scenery of Australia in places like Great Ocean Road or Blue Mountains. You can also pick one of the other significant cities: Brisbane, Adelaide, Canberra, Perth, or a regional city to involvement Australian life at a different pace.
Studying abroad is a great step, but leaving your comfort zone will help you be more independent and develop as a person. If you are from an environment that does not speak English, study in Australia will help you improve your language and communication skills. Nothing helps you learn a language faster than being surrounded by it!
You will make friends and experience things you will not find at home, creating memories that will last a lifetime. In addition, you will discover new perspectives, customs and incredible activities, which will configure you as a global citizen with a greater understanding of the world.