Study in Poland for Pakistani Students 
This land which is known for its attractive nature, especially the national parks across the country. While, Tatra is the most renowned mountain range which is situated across Poland and Slovakia. Poland is a country located in Central Europe. It is divided into 16 administrative subdivisions, covering an area of 312,696 square kilometers (120,733 sq mi), and has a largely temperate seasonal climate.  It has total population of approximately 38.5 million people, Poland is the sixth most popular member of the European Union. Poland's capital and largest metropolis is Warsaw. Other major cities include Kraków, Łódź, Wrocław, Poznań, Gdańsk, and Szczecin. Poland is bordered by the Baltic Sea, Lithuania, and Russia's Kaliningrad Oblast to the north, Belarus and Ukraine to the east, and the Czech Republic to the south, and Germany to the west.
Furthermore, the capital of Poland has over 1.7 million inhabitants. It is a business city, where many Poles migrate in search of education and work opportunities. This is the best place to get your higher education as it the most attractive forest and places. You apply for study in Poland for student visa and there are plenty  for you to contact and consultants about study visa Poland.
Moreover, Poland and its capital has more than 50 higher education institutions, it has a vibrant spirit and constitutes an important scientific and cultural center. The city was almost completely destroyed during the Second World War. Its current architectural landscape has been largely shaped by the years of communism. The official language of Poland, Polish is a Slavic language. Together with Czech and Slovak, it is part of the Western Slavic linguistic group. Behind Russian, Polish is the second most commonly spoken Slavic language. Polish do speak in English as well. As, an international student you don't have to worry about the language barriers.
History of poland for internaitonal Students
The history behind Poland is that over a thousand centuries ago, there were three Slavic brothers who wandered with their tribes through the lands of forests and fields that stretched between two great rivers, Oder in the west and Dnepr in the east, in search of the best place to settle. One day, after months of tired travel, a marvelous sight appeared before their eyes: on a hill there was a huge oak tree with a nest in its branches. From the nest an imposing white eagle hovers in the sky. Lech was astonished by the sight and considered it as a sign of the gods for him and his people. He decided to settle there and chose the white eagle with outstretched wings against the sunset sky for their emblem. Soon they built a city they called Gniezno (a "nest" in the Slavic language). The city became the capital of their nation and the first capital of Poland. And so, the three brothers separated: the Czechs decided to go south and Rus chose the East where they founded their countries.
In the difficult years of communism, a new hope for Poles arose when Karol Wojtyla (John Paul II) was chosen Pope in 1978. Two years later, in 1980, the "Solidarity" was founded, being the first mass independent trade union in communist states. This reform movement, led by Lech Walesa, eventually broke Soviet control in Eastern Europe. The first elections of the Third Polish Republic were held in 1989 and the country entered a period of transition from a communist state to the capitalist economic system and liberal parliamentary democracy. A modern Polish state arose. Poland now has a new constitution which was signed in 1997. The country is a member of the NATO since 1999 and joined the European Union in 2004. After years of turbulent history, the country has finally found some stability and chance for growth in peace. The history shows that Poland has developed through years, and has one of finest places and educational institutes. International student can apply for student visa Poland to study in Poland or you can check Poland scholarships.
Culture in poland for international Students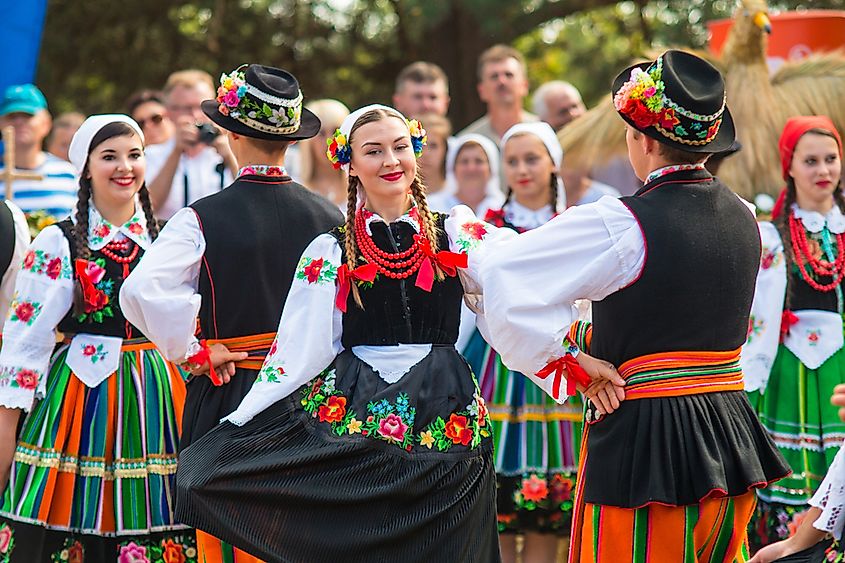 Poland is basically a religious nation state and has established the right to freedom of religion. The greatest religion in Poland is Roman Catholicism, which is followed by other Christian denominations and by a growing tendency to agnosticism and atheism. Today's Poland continues the traditions and customs of this history with origins in the Slavic culture. There were even Byzantine and Ottoman influences. About 95 percent of the inhabitants of Poland are Roman Catholics, with about 75 percent regularly attending religious services. This belonging to the church has influenced the festivals and traditions that are such an important part of Polish culture. As, an international student, who are studying in Poland on student visa Poland or Poland scholarships. The people in Poland are friendly and welcoming. While, hospitality and politeness are part of their tradition and culture. Due to this reason international student are more attract to Poland for their high studies in Poland, and apply for student visa Poland to study in Poland with scholarship, Poland Scholarship programs.
Furthermore, the traditional clothes of Poland nation are brightly decorated and represent different regions of Poland. Men's and women's folk clothes are most often seen throughout holidays, weddings and festivals when dancers entertain audiences with traditional performances. They celebrate all traditional holidays with enthusia
Food in poland for internaitonal students
The national food dish of Poland is Bigos, in English known as the Polish hunter's stew, is one of the national and traditional Polish courses. A real tourist "must". Bigos is a stewed dish based on cabbage as the main ingredient. Fresh cabbages can be used and even sour ones, called sauerkraut. Also, if you are wondering what sort of food will be available in Poland then, you don't have to worry. Poland has one of the best foods to offer to their tourist and international student who visit on student visa Poland to study in Poland with scholarship. You can discuss further about the food and accommodation with DMI Study in Poland consultants in Lahore.
Furthermore, Poland has one of the cheapest foods in the European Union. In the position that covers the whole of Europe, food is the most expensive in Switzerland and in Norway. The food in Poland is full of flavor to the herbs and spices used; like marjoram, dill, cumin seeds, parsley or pepper. The most popular desserts are cakes and pastries.  While, the Polish culture has always integrated elements of its neighbors and there are also many recipes of Jewish origin. Today the Polish menu is still changing, influenced by various tastes, sometimes exotic. In addition to traditional restaurants specializing in Polish cuisine, restaurants serving Italian, French and Asian foods are multiplying in Polish cities, as are vegetarian bars.
Living cost in poland for international Students
If you are in Poland on student visa Poland to study in Poland with scholarship. You don't have to worry about the budget and fund because Poland is an accessible European country with a fairly stable economy and living costs of 450 – 650 EUR month. You can adjust your budget according to the city or area where you want to study. Larger cities like Krakow or Warsaw require 500 – 850 EUR / month.  Furthermore, the cost of living in Poland is among the cheapest in the European Union (EU), along with Romania and Bulgaria. In 2018 Mercer Cost of Living Survey, Warsaw, the most expensive city in Poland, ranked 154 out of 209 cities.
Overall, Poland has a moderate cost of living index, with larger cities being significantly more expensive than rural areas, as is the case in most countries. Eating and buying groceries is generally cheaper than most other Western European cities and prices for Polish products are very reasonable, but imported items will be significantly more expensive. If you are thinking about the transport then public transport is relatively inexpensive and students, and seniors can benefit from discounts on long-term ticketing. Poland's central location and the prevalence of low-cost air travel make it easy and cheap to explore the rest of Europe while living in Poland. Airports are available in all major Polish cities. You can apply for student visa Poland to study in Poland with scholarship or you can find good DMI study visa Poland consultants , to know better about the universities in Poland.
Weather in Poland for international Students 
Comparable many nations in Europe, Poland is an excellent place to travel throughout the year, depending on the weather. Though, the best time to visit Poland is during spring and autumn. But if your student visa Poland degree starts during spring or autumn it's necessary to pack your clothes according. Also, it depends which place in Poland you are staying for your further studies.
While, this country has a typical temperate European climate with six distinct seasons in which summers are mostly warm and humid while winters are cold. Despite these seasons and their typical conditions, the climate in Poland is highly unpredictable. During spring and autumn, the climate is neither too hot nor too cold and is simply pleasant for roaming in and around the cities of Poland and engaging in numerous events and activities that Poland has to offer. From a tourist point of view, summer in Poland is very crowded, so fewer tourists traveling during this period is an additional advantage, so you won't have to wait in a long line outside the tourist spots.
Study in poland for internaitonal Students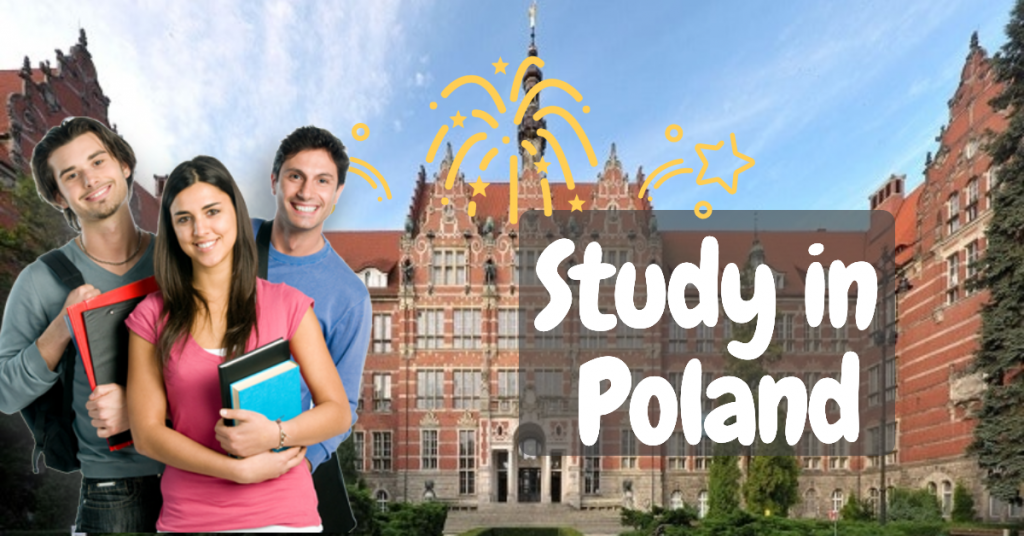 If you are applying in Poland and consulting study visa Poland consultants . While, selecting your university for your higher studies, you need to check all good universities in Poland. Whether you are eligible for the degree or not. After that you can easily apply for student visa in Poland to study in Poland with scholarship. 
Moreover, the education system in Poland is basically divided in three parts. primary, secondary and tertiary. The primary school system consists of six years of schooling, the end of which is a compulsory examination. After that, four-year long vocational high school. Education in vocational schools, lasts three or four years, culminates in a professional exam that allows the successful candidate to enter the workplace or continue his education in an additional or specialized high school or even in a vocational high school. The student can continue their educational career at a university or a non-university institution. In addition to traditional universities, there are also polytechnic and pedagogical universities and academies.
Top Universities Poland for Study in Poland
Requirment for study in Poland
If you are planning to apply for student visa Poland to study in Poland with scholarship. Or you are going to contact DMI study visa Poland consultants for Poland Scholarship.
 Student visa Poland is isolated into three cycles like instruction arrangement of every European nation.
Bachelor's Degree Program. (First cycle)
Master's Degree Program. (Second cycle)
Doctoral Degree Program (PhD). (Third cycle)
Law

Pharmacy

Veterinary Medicine

Psychology

Dentistry

Medicine
Admission requirment for study in poland.
STUDY IN POLAND BACHELOR'S DEGREE PROGRAM:
Higher education institutions of Poland offer a variety of bachelor's degree programs every year. Bachelor of Arts (B.A Licencjat) normally consists of 36 months to 42 months (3 years to 3.5 years). Bachelor of sciences (B.Sc Inzynier) normally consists of 42 months to 48 months (3.5 years to 4 years). To take the admission in Bachelor's degree you need to fulfil following requirements:
Intermediate / Higher Secondary school leaving certificate.

Admission / Application form (correctly filled by candidate.)

Copy of passport or some other internationally accepted identity.

4 photographs (passport size)

Medical fitness certificate.

Receipt of admission fee.

Intermediate result card / transcripts with good grades. (grades should be above merit)

Polish / English language proficiency certificate.
Study in Poland Admission Requirement
Bachelor's Degree in same field you need admission in Master' study Program.

Admission / Application form (correctly filled by candidate.)

4 photographs (passport size)

Receipt of admission fee.

Reference letter from your previous college/university & personal reference also.

Copy of passport or some other internationally accepted identity.

Specialized in relevant subject in Bachelor's degree.

Polish / English language proficiency certificate. (For those students who completed Bachelor's Degree outside the Poland.)
Study in poland for (PHD) Students
Master's degree with impressive grades and with good research work on your study field. To take Doctoral Degree you need to present impressive thesis, thesis can be defended by students at any forum.
Admission requirement can be different for some study programs or particular course. Admission requirements are set by universities themselves. Students should contact to their desired university for admission requirements or Visit University's official website.
THE ACADEMIC YEAR STUDY IN POLAND
There are two study semester in a year in Poland.
Spring Semester.

Fall Semester.
Spring semester starts from 16 February and closed at 30 June. Fall Semester starts from 1 October and closed at 15 February. At the end of each semester examinations held. Lectures in classes, laboratory experiment classes, discussion groups and seminars are used to teach students.
STUDY IN POLAND EUROPEAN HIGHER EDUCATION AREA
Clean advanced education framework pursues Bologna process. Colleges and universities connected the European Credit Transfer System (ECTS).Universities of Poland have concurrence with part of universities on the planet to trade understudies. There are a huge number of students are concentrating in Poland as trade students.
FEES IN STUDY IN POLAND FOR FOREIGNER / INTERNATIONAL STUDENTS
State Universities and schools are taking less expenses. Typical study projects are offered in 2000 Euros for every year. Courses like Doctoral examination programs, Postgraduates, Medical Postgraduates, Arts, Scientific, Vocational courses, apprenticeships and Post Doctoral temporary position are charged 3000 Euros for each year.Tuition expenses at open and non-open advanced education organizations charged from 2000 Euros to 6000 Euros for each year. Be that as it may, the expense of Master of business Administration is bit high than other investigation programs. It is charged 8000 Euros to 12000 Euros for each year.
Scholarships in Poland for international Students 
Government of Poland gives bunches of Scholarships to universal students each year. Many establishments and advanced education organizations of Poland also offered grants to keens students. These scholarships are given for complete study program projects or some particular semesters. scholarships spread educational cost expenses of advanced education establishments. students need to endure the average cost for basic items themselves.
Scholarships granted as complete bundle, educational costs expenses and average cost for basic items incorporating into these scholarships.To check a lot of grant, will likewise help you about discovering grant in not so distant future. Thus, continue visiting us. Tail us via web-based networking media and buy in to our pamphlet. We update practically every day.
Poland Student visa Requirment for international Students
Do I need a visa for Poland? This is a much of the time posed inquiry by students of Pakistan. The appropriate response is yes. Pakistani/non-EU understudies are required a visa to enter in Poland.
Admission confirmation letter from university.

Fee payment proof of university (minimum one semester fee should paid).

Pictures and other proof of identity. (ID card of students or guardian)

Bank statement with sufficient fund to cover university fees and daily living expense.
Normally Poland student visa processing time is 8 to 15 days. you should prepare your visa application file after applying for admission in higher education institution of Poland, and after admission confirmation you should apply for visa immediately.
 International students work allow in Poland
Students are permitted to fill in as low pat time work study in Poland. As a full time students you have resident permit grant which enables you to work in Poland. You can acquire 5 Euro to 6 Euro for each hour in Poland. There are a lot of occupation in Poland for Pakistani/global students.
If you need more information Contact DMI Consultants.