Study in Hungary for Pakistani Students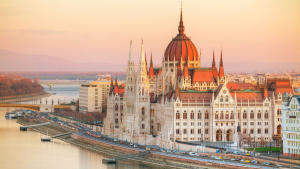 If you are thinking to study in Hungary on student visa Hungary. Then, Hungary one of the finest places to get your further studies. Hungary is a noncoastal country in Central Europe that borders Austria, Croatia, Romania, Serbia, Slovakia, Slovenia and Ukraine. The landscape of Hungary consists of flat and undulating plains divided in two by its main channel, the Danube. The system of government is a parliamentary democracy; The head of state is the president and the head of government is the prime minister. Hungary has transitioned from a centralized economic planning system to a market economy in which the prices of goods and services are determined in a free price system. Hungary is a member of the European Union.
Hungarain is between the main tourist and international student destinations in Europe with the capital Budapest considered one of the most beautiful cities in the world. Despite its relatively small size, the country is home to numerous World Heritage sites, the UNESCO Biosphere Reserves, the second largest thermal lake in the world (Lake Hévíz), the largest lake in Central Europe (Lake Balaton) and the largest natural meadow in Europe (Hortobágy). Hungary's total population is 9.773 million. While, Hungary is famous for their most important thermal spring cultures in Europe. The country assertions no less than 1,500 spas, typically featuring Roman, Greek and Turkish architecture. Hungary has a long tradition of classical music with famous composers like Béla Bartók, Zoltán Kodály and Franz Liszt.
Furthermore, if you are thinking why study in Hungary? Well, Hungary is a little, beautiful country, with a safe and welcoming atmosphere, you can study in Hungary at countless top-quality Bachelor's and Master's degrees. The national language of Hungary is Hungarian. It is spoken as the official language of Hungary. It is the most vocalized language in the country but also Europe's 13th most widely spoken language. In Hungary, 99.6% of the population speak Hungarian.
HISTORY OF HUNGARY FOR INTERNATIONAL STUDENTS WHO WANT STUDY IN HUNGARY
The history of Hungary shows the development through out the years. The journey of Hungary, started when, it was founded in 895 and became a Christian kingdom in 1000 by the coronation of St. Stephen, recognized by the Pope. Throughout the Arpad and since 1301, the medieval Anjou dynasties of Hungary flourished (except for the devastating two years of the Mongol invasion). In 1526, after the calamity of the Battle of Mohács, the Ottomans divided the country into three parts: the Habsburgs in the western and northern parts; Turks in the central area; and the Principality of Transylvania in the southeast as the strength of Hungarian culture and independence. Together with many others in the eastern bloc, the 56 revolution is one of the symbols of resistance against the Soviets during the cold war.
Although the revolution was repressed (with approximately 3,000 casualties), it was a clear message to the Soviets that their plans were not sustainable. The rapid changes in the Soviet bloc and other international events led to the fall of the Berlin Wall on November 9, 1989, leading to political changes throughout the eastern part of Europe. Countries broke free of Soviet rule and Hungary became a republic for the third time. The first democratic and multi-party elections were held in 1990. After joining NATO in 1999, Hungary became a member of the European Union in 2004 along with 9 other countries. In the first half of 2011, Hungary, held the Presidency of the Council of the European Union for the first time.
CULTURE AND HERITAGE OF HUNGARY FOR STUDY IN HUNGARY
The rich culture of Hungary is strong in popular traditions and has its distinctive style, influenced by various ethnic groups including the Roma people. Music of all kinds, from classical to folk, is an important part of everyday life, as is the rich literary heritage of the country. Crafts such as pottery and embroidery, the distinguished traditional Hungarian cuisine, strong fruit brandies, dance and ever-popular spa treatments all reflect the legacy of this fascinating country.
The 10 million Hungarians are lively, friendly and above all appreciate the family, with generations living in the same family under one roof and grandparents have a say in the education of grandchildren. Hungarians are a nation of knights because of their ancient nomadic past and visitors often receive an invitation to ride by their new local friends. Hospitality is an important part of culture here and personal questions about your life are all part of the knowledge process. It's a great place for international student who visit Hungary on Student visa Hungary to study in Hungary.
FOOD AND APPETITE FOR INTERNATIONAL STUDENTS WHO WANT STUDY IN HUNGARY
The food in Hungary is full of taste. It represents their historical values. The Hungarian national dish which is called gooyash is a cross between the two, a steaming bowl of simmered beef, carrots, onions and a lot of Hungarian characteristic paprika to give it a good kick of spice. Besides, they also, like to cook dishes with Chicken, pork and beef which are very common, while turkey, duck, lamb, fish and game meat are also eaten, but not as often (mainly on special occasions). Hungary is also famous for the high quality and relatively inexpensive salamis and sausages it produces mainly from pork, but also from poultry, beef, etc.
Furthermore, Hungary has the maximum significant harvests are wheat, corn, sunflower, potato, sugar beet, canola and a wide variety of fruits (especially apple, peach, pear, grape, watermelon, plum, etc.). Hungary has several wine regions that produce, among others, the world-famous white dessert wine Takauji and the Red Bull's Blood. The cost of food in Hungary is quite cheap compared to other countries. As, a student aboard who study in Hungry on student visa can enjoy good food, also save plenty of fund for their study purpose.
LIVING COST IN HUNGARY FOR INTERNATIONAL STUDENTS
If you are planning to apply for student visa Hungary to study in Hungary. You can plan and discuss the funds accordingly, with your Study in Hungary consultant in Lahore. While, you must be wondering, if it's costly to live and study in Hungary. Well, the answer is no, as the countryside of Hungary is very cheap, but few emigrants live, which is more expensive to afford. While, there are few degrees which are bit expensive like dentistry and medicine.
According to European standards, the cost of living in Hungary is low, which makes it an affordable place for postgraduate students who study in Hungary. Hungary is not part of the euro zone and the Hungarian Forint is the official currency. Students who require a visa to study in Hungary must show that they have been available around € 675 per month to support them. This is a recommendation of the universities too, although the amount you need will depend on your individual living standards.
If you have a limited budget, remember that, as a student, you can get discounts at restaurants and cafeterias, public transportation, cinemas, etc. In your financial planning, it is better to exclude any expected part-time employment income because it can be difficult to work if you do not speak Hungarian.
STUDY IN HUNGARY INTERNATIONAL STUDENTS
Why to study in Hungary? Thousands of international students decide to study in Hungary every year for almost two decades, with Budapest, the capital of Hungary, famous for its high-quality education system, fascinating history and beautiful view, being one of the study destinations abroad the most popular all over the world. If you are an international student moving to study in Hungary, read this guide first to find out what to expect during your scholarships. Over the past twenty years, hundreds of thousands of international students have chosen to study in Hungary and have attended its main universities. Hungary is particularly popular for studies in science – particularly in fields such as medicine and dentistry.
The instruction offered for medical degrees considered high quality by the WHO and directly transferable to any EU country. Many universities in Hungary also progressively propose these degrees and more in English or other foreign languages ​​such as German to appeal to more international students who wish to study abroad. Some of the most common countries of origin of foreign students in Hungary are Germany, Israel, Norway, Pakistan, Iran, Turkey, China, Brazil, France and Canada.
Starting in 2005 and 2006, Hungarian institutions of higher education have started the transformation toward the regulations of the Bologna system. In the new system, both colleges and universities may launch bachelor, master and PhD programs provided that the necessary requirements are fulfilled. This also means that all awarded degrees are equivalent and transferable throughout the EU and many other countries.
As in other countries, some qualifications will not be available at bachelor level, but instead start with the award of a master degree. Examples of such qualifications are: medical studies, veterinary science, pharmaceutical studies and architecture to name a few.
 Academic Year for  Study in Hungary

 
The Hungarian academic year runs with teaching from September to June with long holidays in July and August.
Degree Structure in Hungary for Study in Hungary
Degrees in Hungarian higher education reformed to conform to the international standard of the Bologna process. This means that apart from certain vocational degrees awarded by non-university and college institutions, degrees awarded will conform to the standard of bachelor, master and PhD degrees. This means that not only will degrees be more widely comparable on the international market, but it will also be more widely possible to pursue a master degree in a different field than your bachelor for example.
In certain more vocationally directed courses such as medicine, dentistry and veterinary medicine to name a few, the first degree awarded is a master degree after five to six years of study depending on the field.
Hungary's EU membership also means that its degrees awarded in medicine, veterinary studies and architecture are directly transferable and accepted for professional purposes to other EU countries.
Students from which nationalities study in Hungary?
The majority of foreign students in Budapest, Hungary arrive from the neighboring countries such as Romania, Slovakia and the Ukraine.
Which studies are available in Hungarian universities and colleges?
A vast majority of foreign students who study in Hungary attend the full time academic programs. Medicine studies in SOTE Hungary is one of the most popular study choices, and large numbers of international students are also taking part in the dentistry, pharmaceutics and veterinary programs. The second most attractive Bachelor programs focus on various engineering diplomas.
The more popular higher education faculties are located in the bigger cities, as most foreign students in Hungary attend the highly respectable universities of Semmelweis – University of Medicine, and Corvinus University of Budapest. Apart from the capital city of Budapest, a large number of international students in Hungary is found in the main cities of Debrecen, Pécs and Szeged.
Entry Requirements for study in Hungary 
For admission to a Hungarian university or college course you will need a high school diploma translated into Hungarian or English with the corresponding transcript of courses and grades. Some courses also require an entrance exam, which to the large international courses are offered all over the world. For an English speaking program, part of the entrance examination is often to test your English skills. Otherwise you may be asked to provide proof of these as well. For programs in other languages – German is quite common – there will be certain requirements for your German skills.
HOW TO APPLY FOR STUDENT VISA HUNGARY?
The massive mainstream of foreign students studying in Hungary attend full-time academic programs. Most, medical studies at SOTE Hungary are one of the most popular study in Hungary options, and a large number of
international students participate in dentistry, pharmacy and veterinary programs. The second most attractive Bachelor program focuses on several engineering diplomas.
All foreign students, who are applying for study in Hungary for student in Hungary, and intend to study in Hungary and reside within its borders for more than 90 days, are required to apply for a long-term student visa to study in Hungary. This differs, so be informed in advance about the entry rules that apply for your country! You can apply for a visa only at the Hungarian consulate or embassy which has jurisdiction in your state or country of permanent residence, before departure. Visa processing will take about a month. To receive a student visa,
you must first have an offer from a Hungarian university. Documents are required for visa application, proof of having paid the registration fee and a letter of acceptance from the university related to your admission. Also, the passport valid for at least 6 months after the date of entry, with the copy of the passport photo page and passport photo no older than 6 months. Most important, proof of health insurance and proof of address or accommodation in Hungary and 3 stamped envelopes addressed to the applicant. Once you arrive in Hungary, you will need to apply for a residence permit within 15 days of arrival. This applies to both EU and non-EU citizens wishing to stay in Hungary for more than 90 days.
Documents required for student visa for Hungary 
Proof of having paid the tuition fee

An acceptance letter from the university regarding your admission

Passport valid at least 6 months beyond your date of entry

Copy of the photograph page of your passport

Passport photo no more than 6 months old

Proof of  insurance

Proof of sufficient funds to cover living expenses in the form of bank assurance/statement

Visa application form

3 stamped envelopes addressed to the applicant
After the appointment, the visa processing time usually takes an additional 1 to 4 weeks.
You will need to apply for your residence permit within 15 days of arrival in Hungary. This applies to both EU and non-EU citizens planning to stay in Hungary for longer than 90 days.
To apply for a residence permit, EU and EEA citizens need to submit the following documents:
Proof of payment of tuition fees

Approval document of the host university in Hungary

Proof of health insurance
If you need more information contact DMI Study Abroad & Immigration Consutlants.