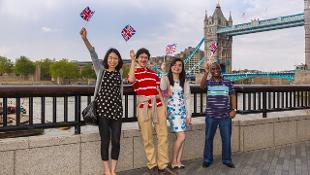 Student Visa Rules
You need 40 points to apply for a student visa. This is achieved by:
1. Course confirmation:
you must receive a Confirmation of Acceptance for Studies (CAS) from a university approved by UK Visa and Immigration (UKVI).
All universities must have been given or applied for Highly Trusted Status (HTS) on the UKVI Tier 4 Sponsor list (30 points). 'A rated' colleges can also issue CAS numbers. The 'A' rating is a transitional rating for 12 months and all 'A rated' colleges must apply for HTS status within this 12 month transition period.
All universities on the Study London website have Highly Trusted Status (HTS). You can view the London university  for more information about each London university, or use the course search to find the right course for you.
2. Student Visa UK Funding:
you should give proof of subsidizing to pay for both your course educational cost fees and your monthly living costs (10 points).Tuition expenses are all things considered £12,000 every year except can go from £8,000 to £36,000.
You will likewise need to demonstrate that you have £1,265 for every long stretch of your investigations (up to a limit of nine months) to pay for living expenses on the off chance that you examine in inward London. Therefore, if you will consider in inward London for a course enduring nine months or more, the greatest sum that you will need is £11,385.This applies to all Students hoping to Study in London. You will be viewed as contemplating 'in London' on the off chance that you are learning at the University of London, or at organizations entirely or mostly inside London, or in regions on the outskirt of London, for example, portions of Essex, Hertfordshire and Surrey.  If you don't know whether your foundation is viewed as 'in London' you should check with your Universities before you make your Tier 4 application.Visit the UK Visa and Immigration website to check the full qualification criteria for a UK study visa. You can likewise peruse further guidance on the UKCISA website.
3. Student Visa Application:
In order to submit your Tier 4 student visa application, please visit the UK Visa & Immigration website to complete the online application form. International students from all countries (apart from North Korea) have to submit the visa application online. You will also need to have your fingerprints and photograph (known as 'biometric information') taken at a visa application centre as part of your application.
4. Student Visa Immigration Health Service Charge:
All nationals from outside of Europe coming to live in the UK for longer than six months are required to pay a 'health surcharge' in order to gain access to the UK's National Health Service (NHS). The health surcharge is £150 per year (or £75 for 6 months or less) for students and is payable when you submit your visa application on-line. Visa applicants need to pay up-front for the total period of their UK visa. For further information, read our Health Advice for International Students .
Remember, you can only apply for a visa once you have been given a Confirmation of Acceptance for Studies. Check you are eligible for a UK Student Visa but do not apply until after you have been accepted onto a course. Your chosen university can guide you through the visa process once you have been accepted onto a course.if you want more information contact DMI Study Aborad  COnsultant.